Archiv der Kategorie 'OOoPDFConverter'


Mittwoch, 7. Juli 2010
Sonntag, 20. Juni 2010
20. Juni 2010
I gave a presentation about OOoPDFConverter at the LinuxTag 2010 on last Saturday. The java application OOoPDFConverter creates PDF documents on the command line. It uses OpenOffice.org in a headless mode and is able to pass all available options to the PDF export filter of the office.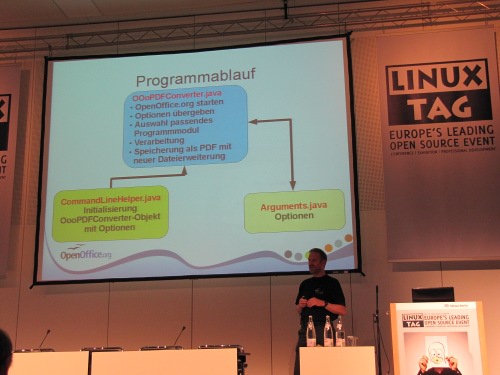 You can get the slides of my presentation using this URL:
http://www.linuxtag.org/2010/fileadmin/www.linuxtag.org/slides/Andreas_Mantke_-_Automatisches_Generieren_von_PDF_mit_OpenOffice_org.pdf
.
If you want to try out OOoPDFConverter, you can download it from
http://sourceforge.net/projects/ooopdfconverter/files/
.
Sonntag, 23. Mai 2010
Donnerstag, 20. Mai 2010
Montag, 17. Mai 2010
17. Mai 2010
I worked on a new website about the options of the java application OOoPDFConverter. The site covers now the current options of OOoPDFConverter and describes the default value of all options.
I think the information are in better shape now and the user could get every piece of information he need to use this application.
You can find the new page
here
.
Samstag, 15. Mai 2010
15. Mai 2010
I uploaded a new version of the java command line application OOoPDFConverter to the
project page
. This version covers the option to export selected pages of the original document. You can find a short explanation of this feature on the
website of the project
. Enjoy the new version of the application and share your experience with us ;-)
You can download the new version using this
direct link
.
Samstag, 8. Mai 2010
8. Mai 2010
OpenOffice.org is able to export office files to the PDF file format. I created with Andre a new java project on Sourceforge.net that uses OpenOffice.org in the headless mode from the command line to convert files to the PDF file format. Therefor it uses the UNO framework of OpenOffice.org
You can create this PDF files with the options that are in OpenOffic.org available inside the PDF dialog, i.e. you can create PDF/A.
Our java application is able to work multiple files in one go.
Visit our little project on Sourceforge.net:
http://sourceforge.net/projects/ooopdfconverter/
.
We have also a little home page for this project:
http://sourceforge.net/apps/phpwebsite/ooopdfconverter/index.php
There is a first version of the OOoPDFConverter available.