I attended the LibreOffice Hackfest in Hamburg last weekend. There were more than 30 hackers around. We had some interesting discussions and we hacked on the code of the office suite. The event was well organized from the Hamburg based hackers.
My goal was to enhance the PDF export dialog with missing option for setting a watermark. I get some hints from other hackers (thanks to Michael Meeks, Björn Michaelsen and Michael Stahl) and created a new section in that dialog. The user of LibreOffice has not to use a special Java program from the command line to set this option anymore. He can set the option direct in the dialog box now (see picture below). The code is in the git repository of LibreOffice and will be delivered with the next main version.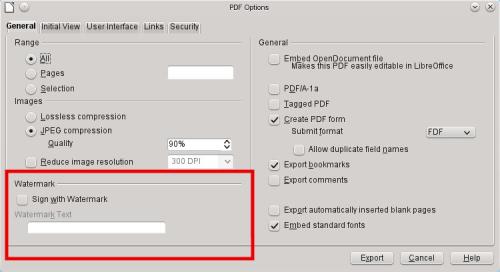 I'll work on some more enhancements of the PDF export dialog next time and update the howto about the PDF export.
Der Beitrag wurde am Dienstag, 17. April 2012, 12:51 veröffentlicht und wurde unter dem Topic
LibreOffice
abgelegt.
'Hamburg-Hackfest 2012'